Are you looking for
Puncture Repair

 for your vehicle?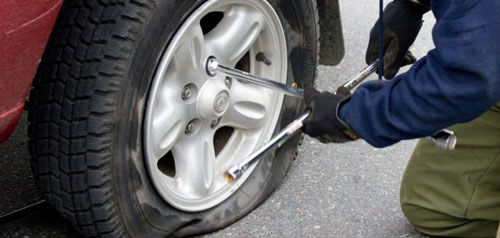 If you are stuck somewhere due to a punctured tyre, we recommend you get in touch with our workshop, Fix My Tyre, for efficient puncture repair Camden, London. This will help you to avoid an immediate tyre replacement following a puncture and save your expenditure on new tyres.
At Fix My Tyre, we strictly abide by the legal guidelines and follow the recommended BS AU 159 standard to repair punctured tyres. Moreover, we carry out a detailed inspection with advanced tools, and therefore, assure you of best-in-class puncture repairing services.
In fact, it is our efficiency and genuinely affordable rates that make us the one-stop solution for all your "puncture repair near me" searches.
Checks that we conduct before a puncture repair Camden
Please note that it is not possible scientifically to repair all tyres and all types of punctures. Therefore, to maintain safety standards, we conduct checks on a number of parameters, like:
Tread depth of the damaged tyre is at least 1.6 mm
Damage from puncture is not more than 6mm in size
There are no cracks in the rubber
There are no exposed chords
The structural integrity of the tyre is intact, etc.
Please note: Tyres Camden that have previously been treated with a DIY puncture repair kit must not be repaired.
Run-flat tyres are also not safe for repairs and must be replaced once punctured.
If your car's tyre meets these standard requirements, we will conduct our services of puncture repair London, or else, we will ask you to opt for a tyre replacement for utmost safety.
Our puncture repairing
There are three efficient puncture repair methods which our experts follow. These are:
External tyre repair with strings.
Internal damage repair with a rubber patch.
A combined plug and patch method for advanced interior repair.
We implement this process as per the BS AU 159 guidelines, which include the following steps (for plug and patch):
We will first remove your car's tyre from the wheel and carry out a detailed inspection.
Next, we will locate and mark the affected area
After this, we will prepare a puncture channel using a 6mm carbide mill cutter from the inside of the tyre. We will repeat this process from the outside as well
Next, we will thoroughly clean the damaged area using a pre-buff cleaner and repair scraper.
Following this, we will hold the patch in position and mark its outline on the inner liner. Then, we will buff the inner liner with a dome buffing rasp. This will flatten any raised ribs.
Next, we will apply a special vulcanising accelerator solution into the buffed area and puncture channel.
We will then insert the combination of plug and patch into the puncture channel and pull it outward until the damaged portion is adequately sealed.
Next, we will seal the plug and patch base and buffed area with an advanced sealant.
Finally, we will cut the stem of the tyre repair patch from the tread, put the tyre back on the rim and re-inflate it to the optimal level
Therefore, look no further and avail our advanced puncture repairs London.
To learn more or book an appointment, give us a call on 0744 5555513.