Are you looking for Tyres Size for your vehicle?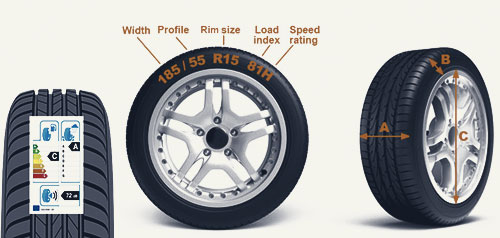 The size specifications of a tyre are represented as an alphanumeric code that you can find lettered on its side. There are several different tyre sizes based on the vehicle type – SUV, passenger car, van, etc.
There is no need to agonise if you do not have much knowledge of tyre size. When you buy car tyres Camden from Fix My Tyre, leave it to our professionals. They will check the tyre size and show you all products available.
If you want to know more about tyre size and what the numbers and letters stand for, we can help you with that too.
How to read a tyre size?
Let's take an example - 215/55 R16 93H. It is one of the most common tyre sizes in the UK. Now, let's break down each number and letter to explain what they stand for.
First three numbers – 215 – denote the section width of a tyre in mm. Section width is the measurement from one sidewall to the other. Here, it is 215 mm.
The following two numbers – 55 – indicate a tyre's aspect ratio. It is represented in percentage. Aspect ratio is the sidewall's height with respect to the section width. Here, it is 55% of 215 mm.
The letter R stands for radial construction. Almost all tyres produced are radial. The other types of constructions are diagonal and bias ply.
Next two numbers – 16 – indicate the diameter of a rim that will fit the tyre. It is expressed in inches. In this case, it is 16 inches.
93 indicate the load index of the tyre. It reflects how much weight a tyre can carry in kg.93 means the load index of this tyre is 650 kg.
Finally, H denotes the speed index of a tyre. It tells the maximum speed a tyre can achieve. Here, H means the speed index of this tyre is up to 130 mph.
Note that the load index and speed index of a tyre can vary while the other numbers and letters remain the same.
Now that you know all about tyre size, you will not have any problem when buying car tyres.
What will happen if you opt for incorrectly sized tyres?
Damage several components like the clutch and wheel bearings, leading to expensive repairs.
Reduce steering response, especially on winter roads and when driving at high speeds.
Decreased braking performance and poor stopping distances, especially on icy and wet surfaces.
Lower acceleration and control.
Display incorrect speedometer readings.
Visit Fix My Tyre in Camden
When you are looking to buy car tyres for your passenger vehicle, SUV, etc., visit us. Call us if you have any query.
So, give your "car tyres near me" searches a rest and visit our shop today!