Are you looking for
Jump Starts Service London

 for your vehicle?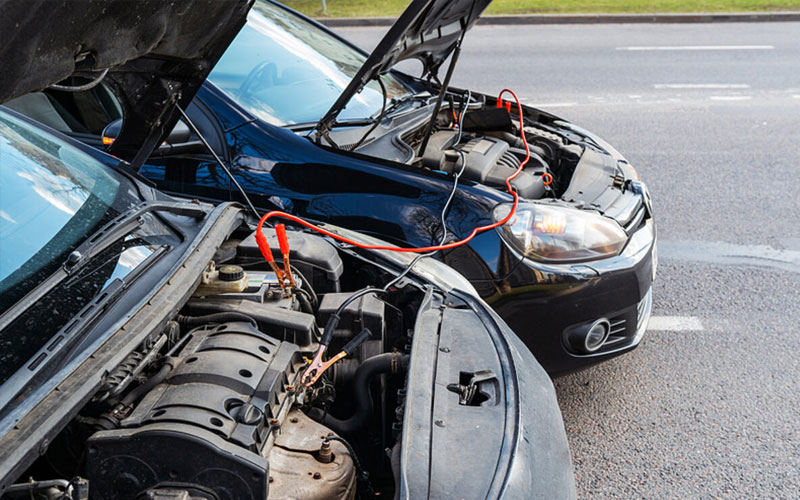 Are you facing any problem in starting your car due to a flat battery?
Don't worry, Fix My Tyre, can offer you a quick and cost-effective jump starts service Camden, London irrespective of the location. We use cutting-edge equipment and have a team of professionals who possess all the technical know-how and are fully adept at their job.
Before jump-starting a car you really must know what you are doing. So, without the right knowledge, you must not try it on your own. Even a minute fault in estimating the correct battery voltage can permanently destroy your car's on-board computer system and cause irreparable damage.
Hence, take the help of our professionals to avoid costly repair bills in future.
What leads to a flat battery?
Ideally, a jump start service London is required when the car fails to start due to a flat battery.
Now, several reasons can lead to such a scenario, such as:
Loose or corroded battery connection
Undetected electrical drains
Problems in the charging system
Extreme weather conditions
Overcharging
Excessive vibrations from the engine
Poor maintenance, etc.
All these factors make your car's battery extremely vulnerable and cause it to malfunction prematurely. Therefore, you need to avail the assistance of a professional garage that can deal with these battery issues and jump-start a car with the right amount of voltage.
Opt for our jump starting services
We offer comprehensive jump start service Camden that include several checks to determine the crux of the issue and ensure it does not occur again in the future. These checks include:
Car battery charger
Thorough battery wiring inspection
Fluid level and terminal checks, etc.
Further, since jump-starting is an extremely intricate procedure, we follow a detailed process to ensure utmost accuracy and safety, like:
We will first thoroughly test your vehicle's battery
Next, we will inspect the charging system
We will also check for possible faults that are causing accelerated battery charge drainage
After fixing the battery issues, we will then jump-start your car with advanced devices so that you can carry on with your journey without any hassle.
In case the battery cannot be re-charged, we can also change it for you.
Therefore, hurry!
Search no further for "car jump start services near me" and contact us. We will come to your location within the minimum time possible and with all required equipment.
Moreover, we offer jump starts service London for all car makes and models. Therefore, get in touch with us on 07445 555513 to jump-start your car and enjoy a safe driving experience.