Are you looking for All Season 
Tyres

 for your vehicle?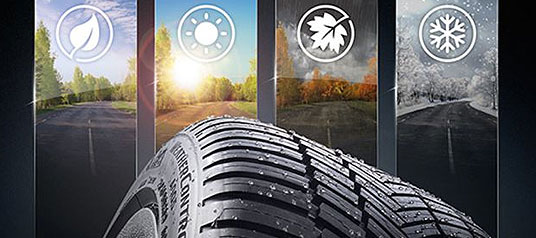 By incorporating new and advanced technologies, the pneumatic tyre industry has undergone colossal changesin the way tyres are manufactured and retailed in the UK.The market is filled with tyres that perform better in different seasons, and units that can be left all year long.
The concept of all season tyres Camden, London was introduced as a cost-effective solution for drivers who do not drive much (6000)
Fix My Tyre houses an extensive collection of all-season tyres at incredibly competitive prices for our customers.
If you are looking to buy all season tyres London, drive down to our facility and find the perfect unit that suits your requirements. You can also book a set conveniently through our website.
What makes all season tyres unique?
As their name suggests, all-season tyres are extremely versatile performers. Their performance attributes can be accredited to three main aspects, which are discussed below:
Tread depth is one of the most noticeable characteristics of all season tyres Camden. To provide optimum grip and traction in snowy conditions and low rolling resistance on warmer surfaces, all-season units have a moderate tread depth.
Our suggestions:Pirelli CinturatoAll Season Plus
As mentioned earlier, all-season models feature thicker tread blocks for enhanced grip on icy roads. Thicker tread blocks naturally last longer, meaning all season
car tyres Camden will last longer than both summer and winter tyres unless you drive in extreme winters. Consumer reports say these models can last up to a massive 90000-100000 miles.
Our suggestions: Michelin CrossClimate+ and Goodyear Vector 4Seasons Gen-2
With unique tread designs such as open shoulder blocks and thicker grooves, all-season tyres offer a quiet and comfortable driving experience on urban roads. Customers also report excellent driving efficiency in terms of grip and braking performance.
Our suggestions: Continental AllSeasonContact and Bridgestone Weather Control A005.
Should you change just two or all four tyres to all-weather models?
When making the switch to all-season units in your car, our tyre experts recommend swapping the complete set instead of just the front or rear two. Installing two all-season units and two season-specific (e.g. summer tyres) ones can lead to severe performance issues such as poor handling, increased braking distance, and insufficient grip on wet surfaces.
Are you still searching for "tyres near me" online? Then visit us today!